NEWS
November 15, 2016



In the months after the release we've been regularly updating the game with big new VR improvements! You can follow along our on-going VR effort on the Steam community.
---
July 15, 2016



The Solus Project has now also been released for Xbox One! Get it now.
---
June 7, 2016



The Solus Project has been launched! The full game is out now for PC on GOG and Steam!




The entire 12+ hour adventure is now out! After 3 short months in Early Access the entire game is now released.

All content, final and ready for you to explore!

Supports Vive and Oculus VR. The VR version has a few things missing left or right but is otherwise entirely working, and is a massive and deeply immersive VR experience.

It took us exactly 1073 days to build the game and we hope that with your support we are able to carry on building more alien worlds!

---
April 13, 2016





Episode 3 has been released for PC! Xbox following shortly!




In "the Highpoint Expansion" the player will explore the new and very vertical Highpoint island, along with its accompanying massive cave level. Tons of new content is added in this expansion. Over three hours worth of additional story and gameplay is added including a new cave look, acid lakes, dozens of strange flying orbs, a monstrous creature, and last but not least a huge windmill.

The plot thickens as the player ventures ever deeper into the world of The Solus Project and begins to understand ever more of what has happened on the planet.

Alongside the new content a large new patch is included fixing known bugs and balancing dozens of existing features. The patch notes can be found here.
---
March 7, 2016

Part 2! As promised a short but intense Early Access phase. With Part 2 we are more than doubling the content of the game to 6+ hours, and we are a long way from done yet!




The story heats up in this second episode. Dark secrets lurk in the depths of this seemingly deserted alien environment and as you venture deeper into the underground you can't shake the feeling you are being watched and followed.
One large new island along with the biggest cave system have been added, giving players an estimated 3-5 hours of additional gameplay and many dozens of new secrets and items. Continue your journey and explore the massive alien world!


-3-4 hours of additional gameplay filled with new features and discoveries.
-Be very afraid of the new lightning storms
-Discover the large island of Flashpoint and harness the power of the skies.
-Explore the largest cave system in the adventure and make your way through massive underground caverns, settlements, and machinery. -Dozens of new items and secrets. From sleeping gear to crowbars.

As with Part 1 we aim for a classic first person game feeling. Large and complex levels with tons of secrets. Little hand-holding. And a magical but deadly sci fi world to explore at your own pace.
---
February 18, 2016

We are very proud to announce that The Solus Project Part 1 has just launched on Steam and GOG in Early Access!


Steam
GOG
---
February 12, 2016

Another week, another Developer Video! Watch it and learn more about The Solus Project storyline.

---
February 4, 2016

We're happy to announce that The Solus Project is coming on February 18 (Steam Early Access, GOG Games in Development) and February 26 (Xbox Game Preview)! The Solus Project will have episodic content updates on Steam Early Access, GOG Games in Development and Xbox Game Preview, offering a new part of the complex alien world to explore with every update, as well as continuation of the story, with the final version releasing in May 2016. You can also watch a new Developer Video. Enjoy!

---
January 22, 2016

Learn more about The Solus Project in the new Developer Video. It's coming out on February 2016 on PC (Steam Early Access) & Xbox One Preview Program!

---
January 5, 2016

It has been six months since we announced The Solus Project, and with around 20 to 40 days to go (a release date will be set soon) for the first Early Access release lets look back at those past six months, while kicking off our release campaign throughout January and February.
Lots of news following over the next few weeks!
Highlights:
Briefly shown at the Microsoft E3 press conference
Had two playable Xbox booths at E3
Was also playable at the Xbox booths of EGX, Gamescom and the Paris Games Week
Was playable at the Tobii booth at GDC, and the Ultra-D booth at CES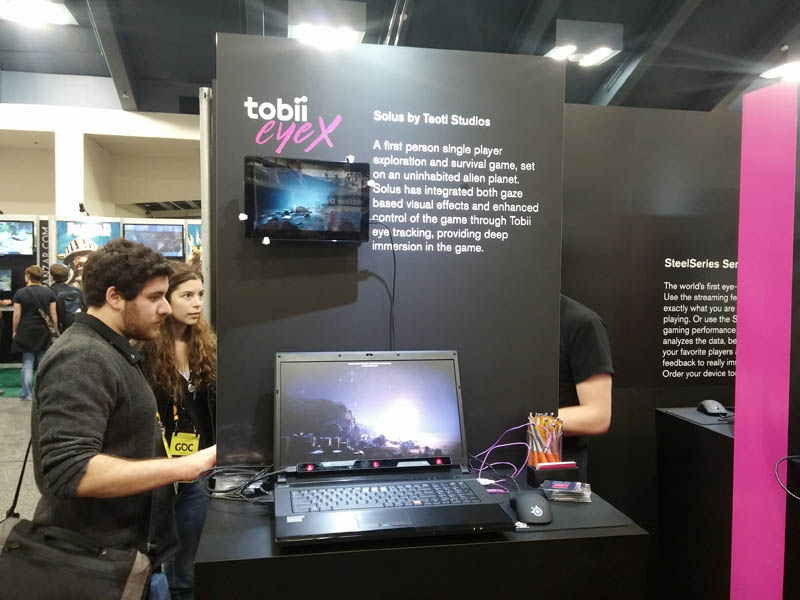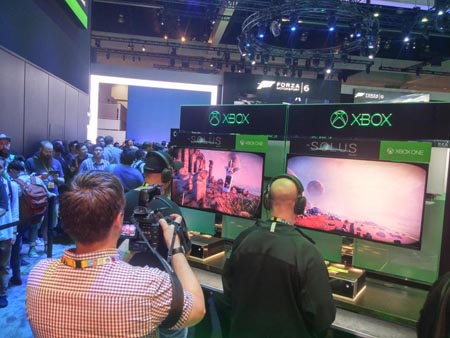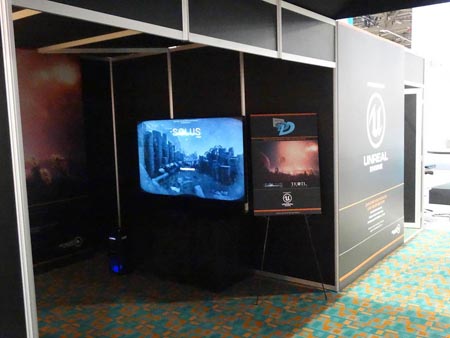 The trailer we released:
Major sites that covered us:
A selection of our overall press coverage
---
November 19 2015

PressA2Join.com held an interview with us about TSP - check it out!
The game has large exploration elements to it, how much time do you think can be spent traversing the planets terrain?

Sjoerd: We are aiming for around 7 to 9 hours of exploration and game time, so it is quite large indeed. The game will have some bottlenecks everyone must pass, which are part of our linear story driven approach, but other than that areas can be traversed as players see fit. You can also always backtrack to any previously explored areas and look for more there. Over a hundred secrets have been hidden away in the world, some within large secret sections.
Things are shaping up well now. Since the in-game footage video was released a few months back we've made thousands of changes, and we are now aiming to wrap up production December 20. After that we will enter QA and validation, along with a Christmas break, as we approach our intended late January Early Access/Xbox Preview release.

We will be showing more of our changes as we roll towards release, but here are the major changes we've made:
We redid all of the voice acting.
We now have the pocket computer talk to you too, HEV style.
Entirely reworked our objective system so it is more exploration focused. You are no longer told where to go half the time, but instead told to explore, and a new objective comes in only when you've come near an object of interest.
More items.
New UI.
Perks and Buffs added.
Crafting redone. Now easier to use, shows you what can and cannot be crafted.
Much more mystery and weird stuff happening to drive the player's curiosity forward all the time.
Did lots of external playtesting to ensure everyone understands everything. About 1500+ issues solved.
Steam page:
http://store.steampowered.com/app/313630/
Steam Community page:
http://steamcommunity.com/app/313630
---
October 22 2015

Lots has happened lately! We will be posting an update on the development next week but first things first!

Welcome to the Fish Cave in the Ice Path level, and say hello to TSP coming to Xbox Preview and Steam Early Access around January/February!

We are honored to have been accepted by Microsoft to launch on their new Xbox Preview program, and we will be releasing the game in steps on Preview and Early Access as we go along. Since this is a singleplayer game we will take an episodic approach, releasing the next set of levels every few weeks for a couple of months long, after which we'd release for real. So a short but intense EA/Preview release schedule is what we are looking at if all goes right.

We have also launched the Steam page and our Steam community pages!

Steam page: http://store.steampowered.com/app/313630/
Steam Community page: http://steamcommunity.com/app/313630

Press release:
Prague/Uppsala, 20th October 2015. GRIP Digital s.r.o. and Teotl Studios are jointly readying their unique adventure The Solus Project for an early 2016 release across PC and Xbox One via the ID@Xbox self-publishing program. Launching simultaneously on each platform – Steam via Early Access, GOG and with Game Preview on Xbox One – The Solus Project is an engrossing first-person survival game, and the brainchild of industry legend Sjoerd 'Hourences' De Jong.

Stranded on a deserted alien planet and with your home planet of Earth on the brink of destruction, The Solus Project challenges you to survive the harsh, volatile environment and find a way to send a signal back home. Confronted with merciless weather, and danger lurking around every corner, the player must save the human race while unraveling the deep secrets of the seemingly deserted alien civilization. Are you alone on the planet…?

"We are really excited that The Solus Project has been accepted as a Game Preview title on Xbox One and that it will be able to launch alongside the Steam Early Access release. " said Jan Cabuk, CEO of GRIP Digital. "Following its release via Early Access and Game Preview on Xbox One, The Solus Project will evolve right in front of players' eyes. We will be taking an episodic approach during our Early Access/Preview time by adding level per level of the large alien world. During our relatively short and focused test phase players will on a regular basis see new features and quests, and we will incorporate their feedback to create a truly unique survival and narrative experience." added Sjoerd De Jong, CEO of Teotl Studios.

Developed using Unreal Engine 4, The Solus Project will be regularly updated across all platforms, and the final version of the completed game will be available by Q2 2016.
---
August 14 2015

8 min gameplay video and Gamescom!

We just put up a video showing 8 min of gameplay from the E3/Gamescom demo level!

This special level is a bit more compressed than the levels in the game, with more things happening, and clearer objectives to ensure that it works well in brief play sessions on the showfloor.

Work in progress obviously, but it gives an idea of the experience!

We are currently moving towards our internal deadline at the end of the month to have the first 7 levels almost entirely done + the remaining 3 levels in pretty good shape. That would leave us another 5-6 months with all the levels and content in place to do polish it over and over again.
We were also at Gamescom, again together with Microsoft at the Xbox booth. We had two Xbox One consoles there with the game running on.
---
July 20 2015

E3 Announcement recap!

Here is a recap of all the news and coverage since our announcement at E3! E3 went awesome. We were briefly covered during the Microsoft press conference, and we had a nice booth on the showfloor as part of the Xbox booth.
Warren Spector playing TSP.
We have since then also had a demo at the Intel Buzzworkshop in Stockholm.
---
June 15 2015

GRIP Games and Teotl Studios formally announce 'The Solus Project'

The ambitious first-person adventure game is headed to console and PC in early 2016

Prague/Uppsala, 14 June 2015. GRIP Digital s.r.o. and Teotl Studios unveil their forthcoming game 'The Solus Project', which is jointly developed and published by the two companies. 'The Solus Project' is a first-person singleplayer adventure headed to PC and as a console exclusive on Xbox One, the all-in-one games and entertainment system from Microsoft via the ID@Xbox self-publishing

As mankind's last hope, and stranded on a deserted alien planet, the player has to survive the harsh environment and find a way to send a distress signal back to an Earth on the brink of destruction. Confronted with merciless weather, and danger lurking around every corner, the player must save the human race while unraveling the deep secrets of the many seemingly deserted alien structures the captivating planet houses.

"The Solus Project is a very ambitious independent game. With more than two years of development and two game studios participating in its development, 'The Solus Project' sets a new benchmark for independent video games, with its ambition to match AAA games in both visual quality and presentation", said Jakub Mikyska, CEO of GRIP Digital.

The brainchild of industry legend Sjoerd 'Hourences' De Jong, 'The Solus Project' is the successor to the 2010 PC Gamer USA Action/Adventure Game Of The Year 'The Ball'. The game is developed using Unreal Engine 4 and will pack unique social features that will give players the chance to share their experiences with their friends, share resources and help each other in their individual journeys.

'The Solus Project' will be released for PC and Xbox One in early 2016, and can be played at this year's E3 Xbox booth.
---
May 7 2015

We began streaming development of the game on Twitch . No fixed schedule right now, it depends on what exactly we work on, but a good number of days we will be online!


Watch live video from Hourences on www.twitch.tv
---
March 5 2015

Thanks to Tobii Eye Tracking, The Solus Project can be found at GDC 2015 in the main expo hall.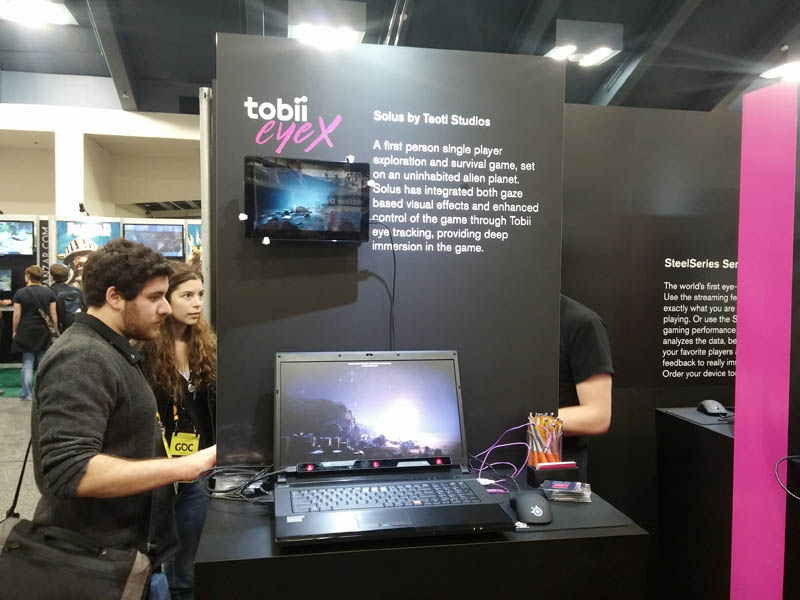 ---
January 6 2015

The Solus Project is present at CES 2015


---
September 1 2014

Development is moving forward well. We now have three islands and all the cavern systems between mostly up and running. Major progress has been made with core functionality, the story, and so on as well. We are working towards having the first two hours of the gameplay all playable and mostly finished by December 2014. A media update will follow some time around that time.
---
May 25 2014

The Solus Project receives funding from Nordic Game Program - Just as with The Ball, we are absolutely delighted in the continued support and assistance from the Nordic Game Program.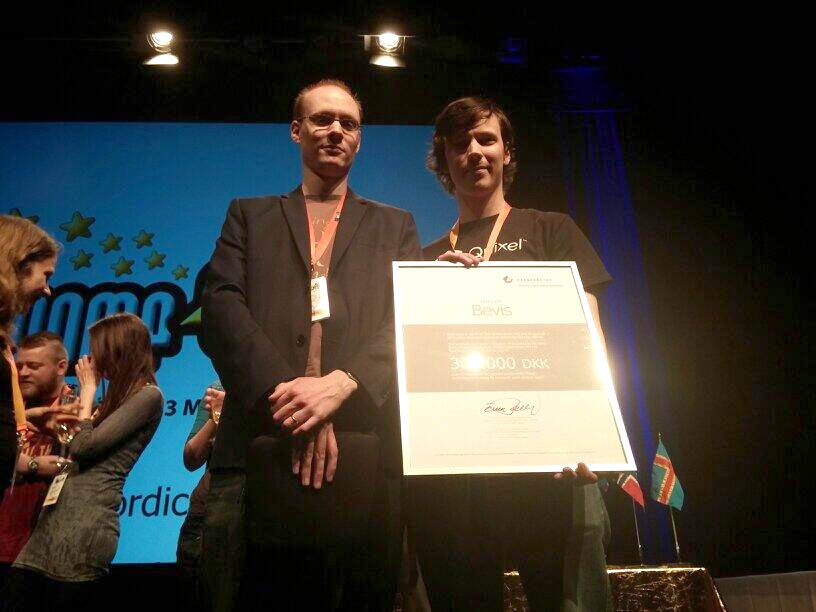 ---
March 18 2014

A of the Swedish Game Awards presentation of how Unreal Engine 4 is put to use in The Solus Project was released.

---
January 18 2014

Epic Games posted a feature about the development of The Solus Project on the UnrealEngine.com website.

"Blueprint is the game-changer for me. It goes far beyond Kismet in Unreal Engine 3 and is incredibly powerful. I am a designer and artist, and for the first time in my career, Blueprint allows me to make entire prototypes and games without requiring me to touch a line of code. Never have I come across any other visual scripting tool or editor that comes within a thousand miles of the power of Blueprint."
---